Quality Trust received funding from the US Department of Justice, Office on Violence Against Women to lead a state-level collaboration committed to continuing our person-centered, trauma-informed work for District residents with intellectual and developmental disabilities who are survivors of sexual assault.
Women and men with disabilities, especially people with intellectual and developmental disabilities are among the populations most vulnerable to sexual violence. Multiple studies highlight the increased risk, frequency and duration of abuse they experience at the hands of intimate partners, family members and/or caregivers, including transportation providers.
The #ProjectPeerToo (#PP2) Collaboration sees the needs of survivors of sexual violence who have intellectual and developmental disabilities (I/DD) through an intersectional, anti-racist, anti-oppressive, trauma-informed lens. This means we recognize that each aspect of a person's unique identity – including but not limited to race, class, gender, sexuality, ethnicity, age, disability and survivor status – is interconnected and involves its own structures of power, privilege, and marginalization. Together, we respond to each person's unique identity. We use this framework throughout our project planning, implementation and evaluation.
Quality Trust is working in collaboration with two local service providers; Project ACTION! and the DC Rape Crisis Center who were collaboration partners in FY 2008-2011 and 2014-2015. Our new partner is the DC Department of Disability Services (DDS), a cabinet-level agency that includes the Developmental Disabilities Administration (DDA) and the Office of Quality Assurance and Performance Management (QAPMA). The collaboration is working on drafting our Charter agreement which will outline our collaboration's Mission, Vision and Core Values.
ProjectPeer Too Vision
In the District of Columbia, survivors of sexual assault or abuse who have disabilities will live in safe environments, heal and have healthy, successful lives. Survivors will have access to high-quality, seamless supports that are person-centered, trauma-informed, and responsive to each survivor's needs.
ProjectPeerToo Collaboration Partners
DC Coalition Against Domestic Violence
The DC Rape Crisis Center (DCRCC)
Project ACTION!
Quality Trust for Individuals with Disabilities
History of Project Peer and Our Work
Quality Trust has worked on this initiative with support from the Office of Violence Against Women with Disabilities since 2008.

Through the continued support and commitment of the Quality Trust, the Women's Knowledge and Development group continued to meet and further the mission of Project Peer since the inception of the initiative in 2008. The collaborative has had the participation of various advocacy, sexual assault and domestic violence agencies since the inception. The Women's Knowledge Development work group was formed in 2009 and created a training curriculum that they co-presented to women with disabilities in the District for many years. The members are highly sought after speakers who presented at an OVW/Vera sponsored Grantee conference where they re-created the group process used in the development of our Healthy Relationship Wheels. This included them telling their own stories that informed the foundation of these tools.
In 2020 and 2021 while physical distancing during COVID-19, Project ACTION! members and other collaboration partners were the featured speakers during an All-Grantee virtual webinar about the intersectionality between disability and race. Due to the great outpouring of positive responses after the first presentation, they were invited back to continue their authentic conversation a second time.
The previous collaboration developed various tools; including a training curriculum to educate women with disabilities, staff trainings and accessible Healthy Relationship and Power and Control Wheels.
Project PEER Healthy Relationships Wheel was designed by the Women's Knowledge Development workgroup as a companion to its training, these wheels explain the different types of domestic violence in plain language and with accessible images.
All training has been paused at this time while the Collaboration takes time to reconvene with new partners, incorporate men into the project and create a new charter as we refine our work to focus on sexual violence and abuse.
For more information or to make a request, contact: Judith Karsevar or call 202-459-5006 (direct line).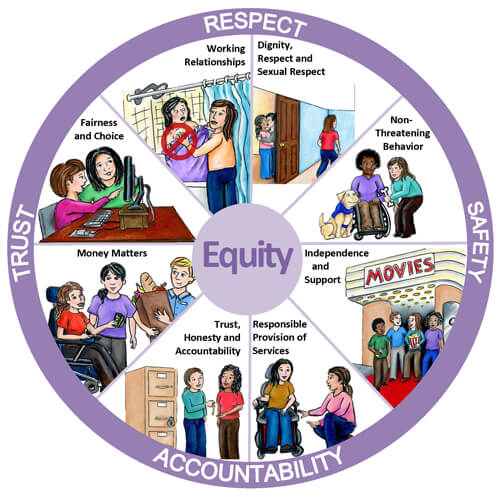 Click Here to view the Healthy Relationships Wheels with text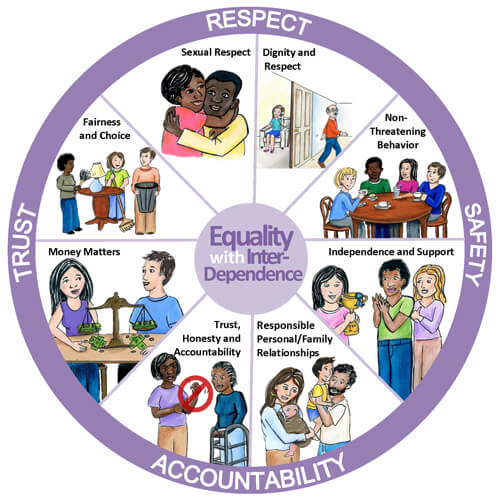 Click Here to view the Equality with Inter-Dependence wheels with text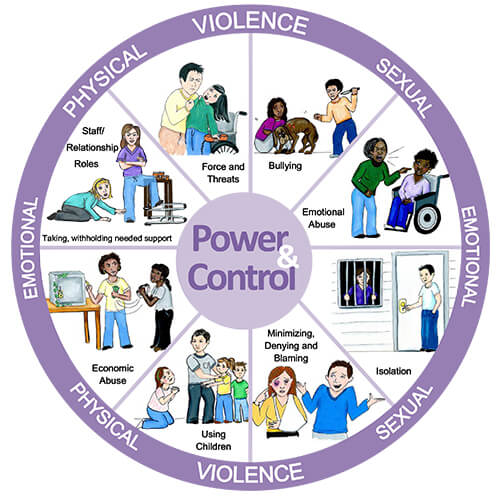 Click Here to view the Power and Control wheels with text